Copperworks Tenants say YES to transfer to Spire View!
Copperworks Housing Association (Copperworks) tenants have overwhelmingly backed the proposed transfer to Spire View Housing Association (Spire View) with 93.1% voting YES to the proposal. The ballot was open for 31 days with an impressive 87.3% of tenants taking the opportunity to cast their vote and make their voice heard.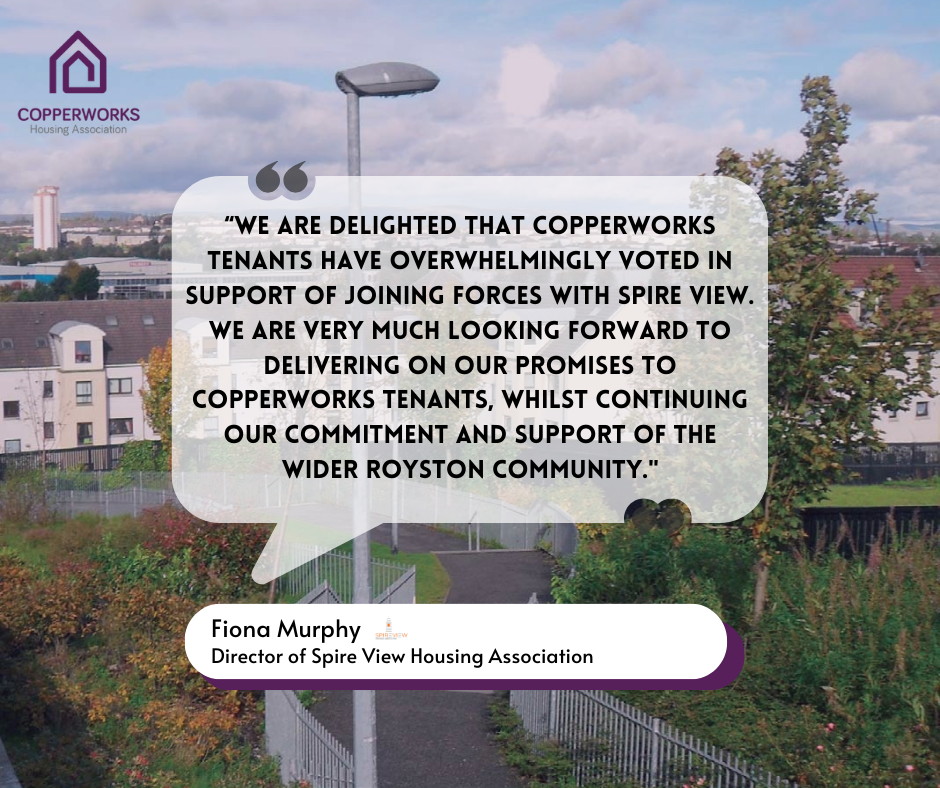 Spire View and Copperworks worked together to create a joint business case for the transfer of engagements of Copperworks' interest into Spire View that would allow the expanded Spire View to do much more for Copperworks' tenants, other customers, and staff members.
Copperworks shareholding members will now be invited to two Special General Meetings where they will be asked to approve, then confirm, a special transfer resolution to complete the transfer process.
Subject to the support of Copperworks' members and other final consents being achieved, the transfer is expected to complete on 1st August 2023. At this point, Spire View will become responsible for delivering the homes and services currently provided by Copperworks.
Fiona Murphy, Director of Spire View, commented, "We are delighted that Copperworks tenants have overwhelmingly voted in support of joining forces with Spire View. We are very much looking forward to delivering on our promises to Copperworks tenants, whilst continuing our commitment and support of the wider Royston community'."